Today, I am really feeling the blogging world love!
Cindy at Granny Goes to School was one of the first followers of my blog, and the first fellow teacher blogger that I talked to. She is the sweetest!! And I absolutely adore her blog.
She is starting a new feature called Triple Treat Day, where she shares one sweet recipe and two sweet bloggers. I am lucky enough to be featured in her first post!
The other blog she featured is Mrs. Thigpen's Kindergarten. I had not seen her blog until I read Cindy's post, and she has some great stuff--and TONS of wonderful freebies!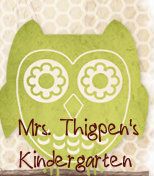 You should definitely stop over to check out her awesome blog and get to know my new, sweet friend! Thanks Cindy!